A big collection of some high-quality and best available invoice templates to download and use in your next design business project. These pre-made invoice templates are available in PSD, PDF, INDD, Word, & EXCEL Formats.
If you are a business owner, freelancer, or even anyone who is looking for a professional invoice to bill his customers, then this post has a huge collection of some of the best and printable invoice templates to help you save time, effort, organize your product data and customers info and generate the invoice by inserting the costumers ID and Items ID easily and quickly. 

Using a unique and well-designed invoice will certainly make your business more professional and attractive. So, enhance the effectiveness of your business using these novelty invoice templates listed below. We have got for you a lineup of some of the most beautiful invoice templates which you can choose from to make your own mind-blowing invoices. A wide range of best and free invoice templates are available today to download and use for everyone who is looking for a professional, modern, and professionally designed template. 

I have also included a verity of Invoice Templates that can be used on multiple platforms such as Adobe Photoshop, Adobe Illustrator, Adobe InDesign, Microsoft Word, and Microsoft Excel. These ready-made invoice templates are available in MS Word, AI, EPS, PSD, PDF versions and a lot more. So, all you have to do is edit and customize any of these templates to meet your own needs, because all of them are fully editable and customizable, after figure out which template is best suited for your invoice. 

I hope you will find something useful from the fascinating collection listed below. If you like our work don't forget to share it with your friends out there.
BEST DESIGNS BLOG
Free Printable Billing Invoice Template AI, EPS and PDF Formats:
BEST DESIGNS BLOG
Free Professional Business Invoice Design Template:
BEST DESIGNS BLOG
Freelance Invoice Template in InDesign INDD and IDML formats – Free download: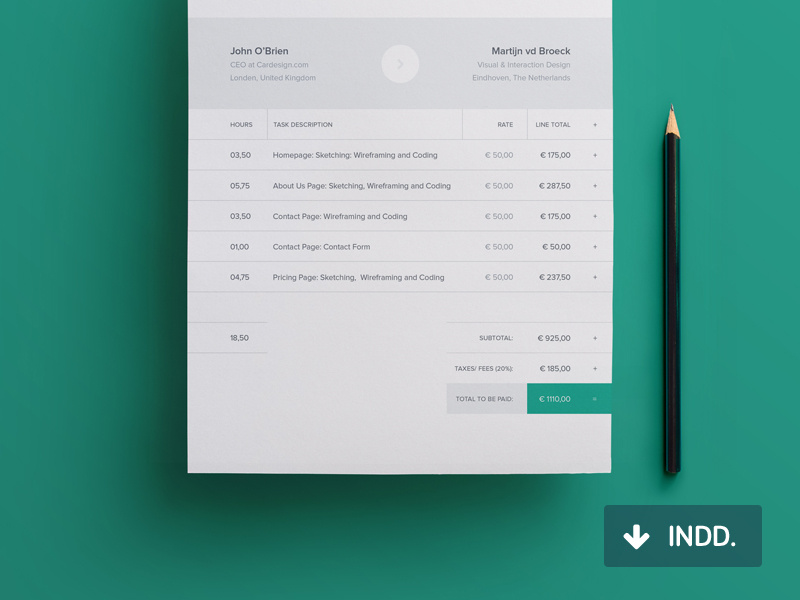 BEST DESIGNS BLOG
Blank Invoice Template For Microsoft Word – Free Download:
BEST DESIGNS BLOG
Generic Invoice Template PSD – Free Download:
BEST DESIGNS BLOG
Free Business Invoice Template for Excel:
BEST DESIGNS BLOG
Consulting Invoice Template in AI Format – Free Download:
BEST DESIGNS BLOG
Service Invoice Template Free PSD:
BEST DESIGNS BLOG
Simple Invoice Template in MS Word – Free Download:
BEST DESIGNS BLOG
Simple Invoice Template Free:
BEST DESIGNS BLOG
Ms Word Invoice Template Free:
BEST DESIGNS BLOG
Invoice Design Template Free PSD Download:
BEST DESIGNS BLOG
Free Printable Invoice – PSD Template Download:
BEST DESIGNS BLOG
Free Template For Invoice:
BEST DESIGNS BLOG
Creative Invoice Templates In 6 Different Colours:
BEST DESIGNS BLOG
Professional Invoice Templates:
BEST DESIGNS BLOG
Metro Minimal Business Invoice Template:
BEST DESIGNS BLOG
Professional Business Invoice Template:
BEST DESIGNS BLOG
Modern Stationery With Invoice and Identity Templates:
BEST DESIGNS BLOG
Printable Invoice Template:
BEST DESIGNS BLOG
InDesign Invoice Template Set:
BEST DESIGNS BLOG
PSD Invoice Template:
BEST DESIGNS BLOG
Proposal, Contract & Invoice Template:
BEST DESIGNS BLOG
Clean Invoice Template:
BEST DESIGNS BLOG
Invoice Templates Bundle:
BEST DESIGNS BLOG
Fantastic Invoice Templates:
BEST DESIGNS BLOG
Gstudio Clean Invoice Templates:
BEST DESIGNS BLOG
Cool Invoices: 
BEST DESIGNS BLOG
Multipurpose Invoice Print Templates:
BEST DESIGNS BLOG
Printable Invoice Template:
BEST DESIGNS BLOG
Professional Invoice Templates:
BEST DESIGNS BLOG
Business Invoice Template:
BEST DESIGNS BLOG
Creative Invoices:
BEST DESIGNS BLOG
Commercial Invoice Templates:
BEST DESIGNS BLOG
Tally Invoice Template:
BEST DESIGNS BLOG
Clean InDesign Invoice Template:
BEST DESIGNS BLOG
Professional Invoice Template:
BEST DESIGNS BLOG
Generic Invoice Template:
BEST DESIGNS BLOG
Modern Invoice Templates:
BEST DESIGNS BLOG
Business Invoice Template:
BEST DESIGNS BLOG
Invoices With MS Word:
BEST DESIGNS BLOG
Professional Business Invoice:
BEST DESIGNS BLOG
Invoice Template:
BEST DESIGNS BLOG
 Full Autmatic Invoice Template:
BEST DESIGNS BLOG
Professional Invoice Template:
BEST DESIGNS BLOG
Invoice Templates:
BEST DESIGNS BLOG
Invoice Template With Letterhead:
BEST DESIGNS BLOG
Elite Invoices:
BEST DESIGNS BLOG
Perfect Invoice Template:
BEST DESIGNS BLOG
Invoice Template:
SPREAD THE WORD ABOUT US 🙂